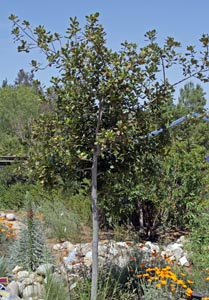 Sweet bay is a medium-sized tree, whose aromatic leaves are used as a culinary herb (bay leaf), earning it the distinction of herb of the year 2009 by the International Herb Association. The plant Laurus nobilis (family Lauraceae) is widely cultivated in many regions of the world where it is used primarily as a culinary herb now but in its native Mediterranean it was also used medicinally and culturally. It had the reputation of protecting against natural disasters, especially lightening strikes, and was used in the laurel wreaths worn by ancient poets, athletes, soldiers and Roman Emperors to symbolize victory or accomplishment. Other common names for this species include bay, bay laurel, grecian laurel, laurel and true laurel. Other trees commonly called bay include California laurel (Umbellularia californica) and bay rum tree (Pimenta racemosa), whose leaves and twigs are distilled to produce oil of bay, which is used in perfumery and in the preparation of bay rum (an aftershave or hair tonic, not a beverage). The related L. canariensis, native to the Canary Islands and Madeira, is less hardy than sweet bay and has longer, broader, less aromatic leaves.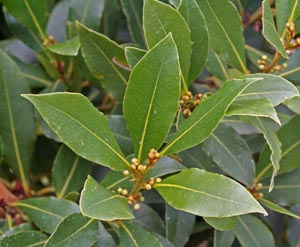 Bay is an evergreen plant that can be grown as a single-trunked tree or a multi-trunked shrub. It also adapts well to pruning and shaping, so can be used for topiary or grown as a standard. Because it is relatively slow-growing, it does well in containers. The glossy, dark green, leathery leaves are 3-4 inches long, lanceolate, with a strong midrib and wavy, finely serrated edges. The smooth bark is olive green to gray in color. The plants are dioecious, with star-shaped male and female flowers on separate plants. Inconspicuous but fragrant, pale yellow-green flowers in spring are followed by small, purplish-black, egg-shaped berries, each with a single seed, on established female trees. Trees are self-infertile, so a male tree is needed to set seed. Bees pollinate the flowers.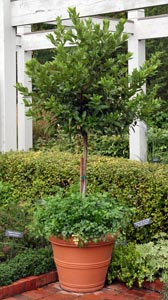 L. nobilis is widely grown as an ornamental plant in mild climates (zones 7-10), but can be grown as a long-lived houseplant or outdoor container plant in cold climates. Although it prefers well-drained soil and regular moisture, it is fairly tolerant of most conditions but can never be allowed to dry out completely. In its native areas it grows amid damp rocky ravines, thickets and old walls. Indoor plants can be moved outdoors in the spring and back inside in the fall when temperatures are consistently above freezing. If kept in a cool room (35-60˚F), the tree will stay dormant and does not need much light and very little water (just enough to keep the soil barely moist). In a warmer room provide regular watering like any houseplant and as much sun as possible. In the Midwest, container-grown bay trees thrive in full sun (after being acclimated from the darker indoors) but in warmer climates they may benefit from light shade.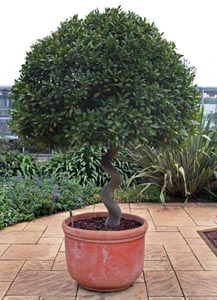 Once established, prune the bay tree annually to keep it growing vigorously – also providing supply of bay leaves for cooking. Pruning is best done when the tree is not actively growing to maximize growth but to maximize flavor, harvest leaves in the mid summer. Container-grown plants should be repotted to maintain a balance between the size of the roots and that of the top. Prune the roots by cutting off all the roots where they had touched the surface of the old pot whenever the plant is repotted. The roots should be pruned at least every two years (even if the plant is to stay in the same pot) and add fresh compost-soil mix to replace that removed with the roots. Bay is difficult to propagate but this can be done from fresh seed (germination is rather erratic and the seed bed needs to be kept warm), half-ripe cuttings taken in summer (which may take several months), or by air-layering. This plant has few pests but scales can be a problem, particularly indoors. The bump-like insects can occur on both the leaves and woody parts.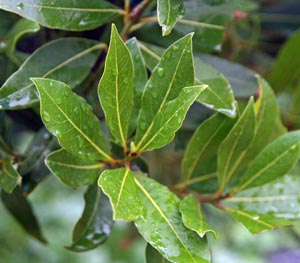 The mature leaves can be used fresh but when dried, the oils are more concentrated. This herb is typically used in stews, roasts, casseroles, and soups with a relatively long cooking time, and also for pickling, in marinades and in teas. Dried leaves can also be used in potpourri, for wreaths and other craft projects, or to repel pests such as silverfish or stored product insects. The essential oil is used in massage oil.
---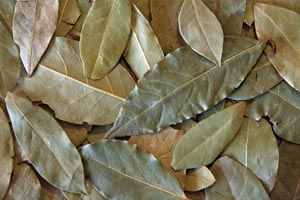 – Susan Mahr, University of Wisconsin – Madison