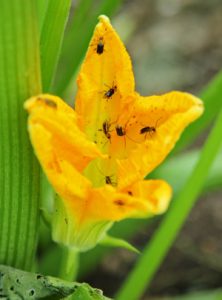 In mid and late summer, you may notice little oblong-oval beetles feeding on the flowers of cucumber, squash and pumpkins, melons, and maybe on other ornamental flowers as well. Some of these are cucumber beetles, important pests of cucurbits, while the others are corn rootworms. There are two species of cucumber beetles in Wisconsin, as well as two very similar-looking corn rootworm beetles. These native beetles in the family Chrysomelidae are about a quarter of an inch long, have beaded antennae, and often have distinctive markings.
Spotted cucumber beetle (Diabrotica undecimpunctata howardi) is a bright yellow-green with 12 black spots on the elytra and a black head and legs. The larval stage is known as the southern corn rootworm because they feed on corn roots (among other things).
Striped cucumber beetle (Acalymma vittata) is pale yellow with three black stripes down the back and a black head.
Western corn rootworm (Diabrotica virgifera virgifera) is a little bit bigger than the others. The males are mostly dark brown or black gradating into dull yellow at the back end. Females resemble the striped cucumber beetle, but the stripes are less distinct and do not extend to the end of the elytra.
Northern corn rootworm (Diabrotica barberi) is a uniform pale green.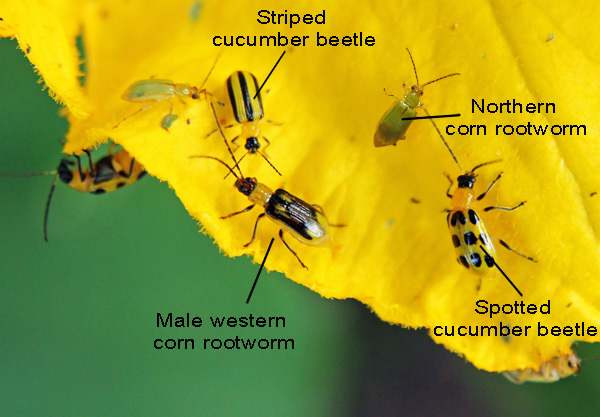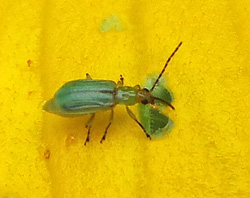 The rootworms typically appear in cucurbits in the middle to late season mostly likely because corn (their preferred host) pollen shed has stopped. Even though they can be more abundant than the cucumber beetles at that time, they probably have little impact on the cucurbits – although heavy populations can damage pumpkin and winter squash plants and fruits.


Striped cucumber beetles overwinter as adults in protected areas (under leaves, clods of soil, and other debris) and become active in mid-spring, when temperatures begin to increase. They quickly locate host plants, and females lay groups of eggs in cracks in the soil at the base of seedling cucurbits. The slender, off-white larvae have three pairs of short legs and darker head and abdominal tip. They feed only on the roots and generally do not cause noticeable damage to the plants, so are rarely encountered by gardeners.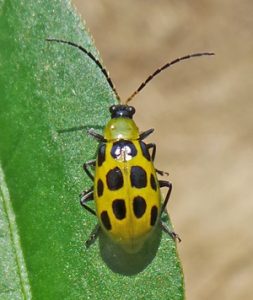 These larvae pupate in the soil and later in the summer the next generation of beetles emerges.
The spotted cucumber beetle overwinters in southern states and migrates to the northern United States and Canada each year, appearing two to four weeks later than striped cucumber beetles (although there is some evidence that some may overwinter in northern areas, too). The larvae develop on the roots of corn, small grains and grasses.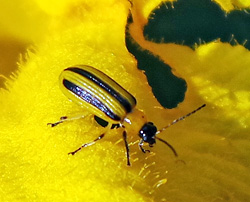 The adult striped cucumber beetle feeds almost exclusively on cucurbits, including cucumber, cantaloupe, winter squash, pumpkin, gourd, summer squash, and watermelon.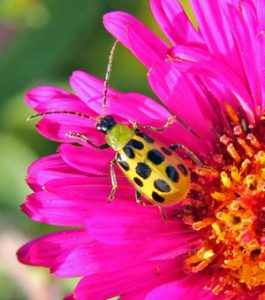 The spotted cucumber beetle has a wider host range and may also feed on more than 200 alternate host plants, including beans, corn, and potatoes. Both feed mainly on the leaves, pollen and flowers, but they will feed on soft fruits, leaving scars on the fruit. Well-established cucumber, melon, and squash plants can sustain a lot of cucumber beetle feeding on the foliage without affecting yield. But severe feeding on flowers can result in poor fruit set. The beetles can kill or severely stunt young plants by feeding on the cotyledons and can girdle stems by gnawing on the tender shoots of seedlings.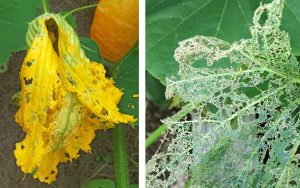 These two species of beetles are also vectors of squash mosaic virus and the pathogen that causes bacterial wilt of cucurbits, Erwinia tracheiphila. The bacterium overwinters in the gut of some striped cucumber beetles and/or in the sap of alternate host plants. Once acquired, the bacterium is spread through their feces or on their mouthparts. When they feed on the leaves, they create openings for the pathogen to enter the plant.


Once inside, the bacterium multiplies in the xylem vessels, creating blockages that cause rapid wilting and death of the plant. There is nothing that can be done to save an infected plant. Since other cucumber beetles can pick up the bacterium from infected plants and move it to healthy plants, remove and destroy any wilted plants. Bacterial wilt is most severe on cantaloupe and cucumber, less on squash and pumpkin, and rarely affects established watermelon plants.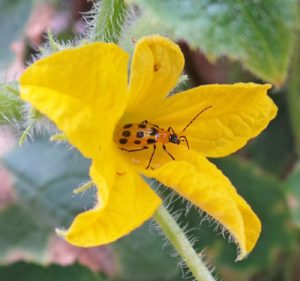 Seedlings are more susceptible both to feeding damage and infection by bacterial wilt. Covering the young plants with floating row cover (or screens or cones) is an effective means of excluding cucumber beetles and preventing bacterial wilt of cucurbits in home plantings.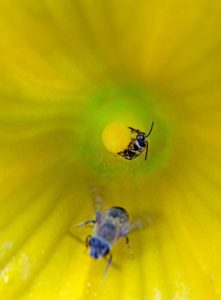 The covering must be removed when the plants begin to flower so that pollinators can have access to the flowers, otherwise there won't be any fruit set. Some types of cucurbits are more resistant to cucumber beetles than others, but even these resistant varieties may be affected in heavy infestations, and susceptibility may vary with geographical regions. Foliar insecticides can be used on seedlings and older plants in larger plantings, but may not kill the beetles quickly enough to stop transmission of bacterial wilt.
– Susan Mahr, University of Wisconsin – Madison