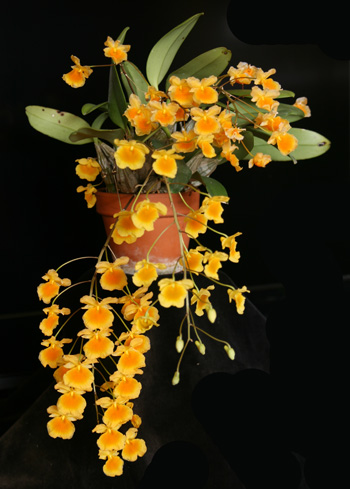 Almost everyone enjoys blooming plants when it's cold and grey (or maybe white) outside. Dendrobium lindleyi (formerly D. aggregatum var. majus and often still referred to by that name) is a relatively small species of epiphytic orchid from the mountains of Southeast Asia. Native to deciduous forests from northeast India to Vietnam, Laos, Thailand and southern China, it produces spectacular showers of golden flowers.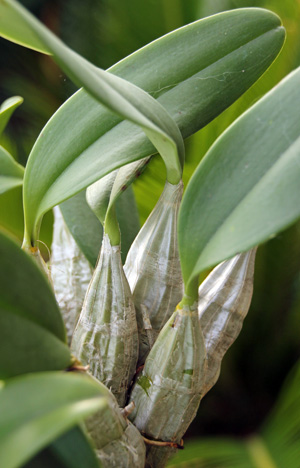 Unlike other dendrobiums, this dwarf or miniature orchid does not produce tall canes but instead has short, thick, spindle-shaped pseudobulbs – the thick, bulb-like stems that store water – clumped closely together at the bases. Each 2″ long pseudobulb is covered with a thin, papery covering and the tissue beneath should have a reddish cast if the plant is receiving sufficient light. The pseudobulb tapers slightly near the top, bearing a single, leathery leaf. The short, thick, ellipical leaves 1-3″ long have a slight crease down the middle. The leaves will be dark green when shaded but lighter in color with more sun exposure. They also do not drop their leaves like some of the tall cane dendrobium orchids do.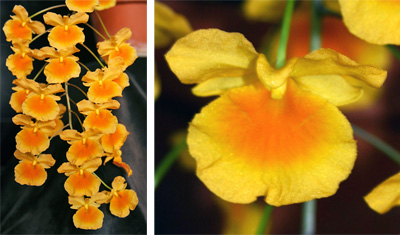 Flower spikes start growing from the pseudobulb in late winter. It takes several weeks for the thin stalk to elongate and buds to open. The arching to pendant raceme grows 4-12″ long and generally has 10-20 flowers. Plants can be completely surrounded by bright yellow flowers in mid-spring, with the flowers taking up more space than the entire plant when in full bloom. Plants are best staged on a shelf or set on some sort of low pedestal (such as an upturned pot) to allow the gracefully cascading flower clusters to hang down for the best appearance. The individual 1″ wide flowers have a flat face with rounded petals (reminiscent of pansies) that are bright golden- to yellow-orange with a deeper colored lip.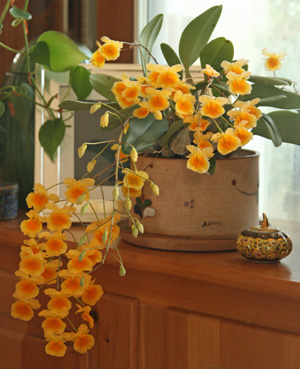 The color deepens as the flowers age. The flowers have a faint, beeswax- or honey-like fragrance which is most pronounced in the early morning and early evening. They may last from a week to a month, depending on the temperature and humidity. The inflorescences will not rebloom, so should be but off once they are dried up.
D. lindleyi needs bright light year-round and warm to intermediate conditions (similar to the optimal conditions for cattleyas) during the growing season, with plenty of water. This species will not bloom if it does not receive sufficient light. It also needs a dry winter rest for several weeks or months in order to bloom. The plant can be successfully grown in a home as long as there is a bright space that remains cool in winter. But it will not flower if nights stay above 60ºF from about December to February. If these conditions can be met, D. lindleyi is a very rewarding species to grow. It's best to neglect the plants beginning in late fall: starting in November, keep them cooler at night (50-60ºF) and don't water at all unless the pseudobulbs become extensively shriveled, and then water should be provided only sparingly.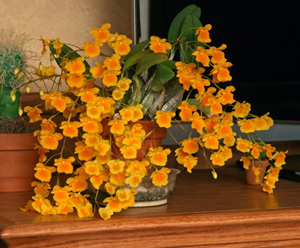 Some shriveling (pseudobulbs deeply wrinkled or furrowed) is normal and the plants will plump up quickly once watering is resumed in the spring. Begin watering again once the flower buds appear.
This species should be fertilized heavily during the growing season (as much as weekly with ½ strength high-nitrogen fertilizer), but all fertilizer should be withheld during the winter rest. It has few pests, but spider mites can sometimes infest the plants. This species is well-suited to being mounted on bark or cork where sufficient humidity can be maintained year-round. Otherwise it adapts well to normal orchid culture in a small pot. These plants can be divided when clumps outgrow their container, but each division should have 5 to 9 pseudobulbs. It may take a season or two for the divisions to establish and begin blooming again.
– Susan Mahr, University of Wisconsin – Madison