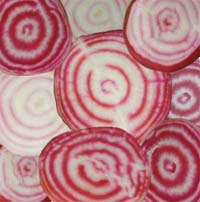 'Chioggia' is a pre-1840 Italian heirloom variety of garden beet (Beta vulgaris). Sometimes called Candystripe Beet or Bull's Eye Beet, it is distinguished from other varieties by the alternating concentric rings of scarlet red and white inside. There is considerable variation in the amount of coloration, with some individuals being nearly completely red, others almost white, and every combination between those two extremes. The slightly flattened globe-shaped roots have a red-orange or pink to light red skin. Many people say these beets are sweeter, milder or more peppery than the typical red beets. The leaves are medium height with green stems and red shading. It is noted for its earliness and relative absence of bleeding.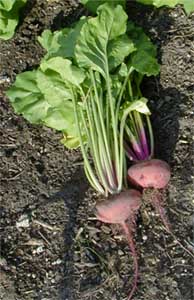 Beets probably originated in the Mediterranean area where their leaves were harvested for food. Swiss chard is an improved version of these early, leafy beets. Up until the 16th century beet roots were primarily used for medicinal purposes. They contain beta carotene and vitamin C. Both the leaves and roots are used as food now. In addition to chioggia beets, there are many varieties of red and golden beets. Although beets are technically a biennial, they are always grown as annuals.
Planting & Culture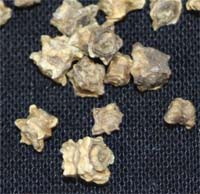 Despite the exotic appearance, chioggia beets are just as easy to grow as regular ones. Beets are a cool season crop and should be planted early in the spring – about 4 weeks before the average date of last frost. A midsummer sowing will yield a fall harvest. In our climate you can also make a succession of plantings every 3 weeks if you want a continuous supply of small beets.
Beets can tolerate some shade, so they need not be grown in the typical full-sun vegetable garden. They prefer well-worked, loose soil that is high in organic matter.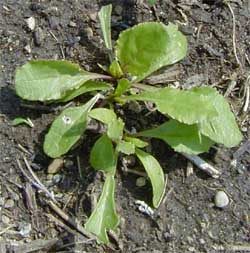 Direct sow the "seed" ½ inch deep and about 1 inch apart. Keep the seedbed moist until the beets germinate. Because most beet seeds will produce a small cluster of seedlings, thinning is necessary for correct plant spacing. Thin seedlings to about 2 inches apart once they are large enough to handle. They do not transplant well, so just pinch the plants out (and eat them like spinach if you choose).
Cultivate regularly as beets do not compete well with weeds. Be careful not to dig too deeply around the base of the plant because the roots are shallow and easily damaged. As the roots enlarge, make sure the top of the root is covered with soil so its won't change color or develop corkiness at the top. Be sure to provide adequate water for the young roots – a lack of moisture will result in stringy, tough vegetables.
Pest Management
Beets have few significant insect or disease problems. Leafminers may tunnel through a few leaves, but that won't affect the roots. Root maggots, wireworms and other soil-dwelling creature may damage the roots but usually this is superficial and can be cut off when peeling the roots.
Harvesting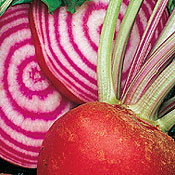 Time to harvest depends on the variety, with chioggia generally listed as 50-60 days. However, beet roots can be harvested anytime after the root reaches 1 inch in diameter. Beets will tolerate temperatures down to about 20ºF, so they can be left in the garden late into the fall. Twist off the leaves rather than cutting them to prevent "bleeding" which causes less intense color and perhaps less flavor.
Many publications state that beets can be stored for one to three weeks in the refrigerator. The greens will keep for one week.

– Susan Mahr, University of Wisconsin – Madison