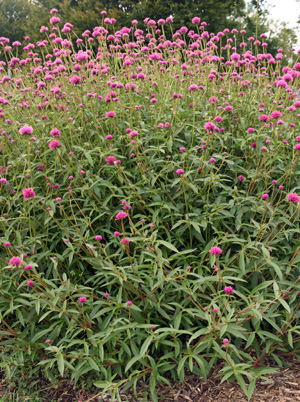 Gomphrenas are an old-fashioned cottage garden favorite with conical, clover-like blossoms but there's a new cultivar that does not look like other globe amaranths. Introduced in 2009 by Ball Horticulture as Gomphrena sp. 'Fireworks', this plant produces completely unique tufts of long-lasting, intense hot iridescent pink flowers tipped with bright yellow on very long stems. This low-maintenance annual (perennial in mild climates) is a showstopper in the garden and makes a great addition to a fresh or dried flower arrangement with its eye-catching blooms.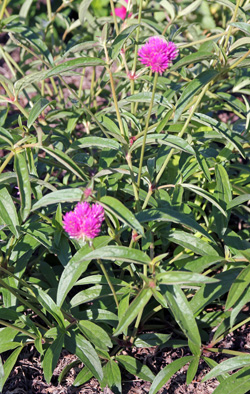 This cultivar grows quickly to form a full, dense basal clump of leaves 2-3 feet or more across, then produces numerous long, sturdy but thin, upright flower stems 2 to 4 feet tall with just a few narrow leaves along those stems (reminiscent of Verbena bonariensis, all stems and flowers with little foliage). Every terminal of the well-branched stems supports a full 1 inch diameter blossom. This inflorescence is a cluster of many individual flowers, each with neon yellow stamens sticking out from hot pink bracts, looking like dozens of little firecrackers on each round bloom. As with other gomphrenas, the flowers attract many pollinators and butterflies. The flowers are held well above the basal foliage in an open, "scaffolding" habit for a very different look than regular gomphrenas which can provide an interesting architectural element in the landscape.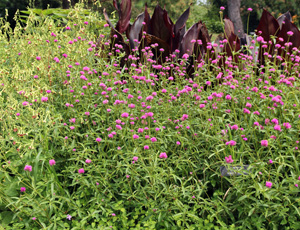 'Fireworks' is showy planted in mass but is particularly appreciated up close where the flowers look like exploding bursts of tiny fireworks all over the stems. Use it in masses in beds, as an accent in larger mixed containers or combined with other annuals or perennials in borders. The profuse blooms blend well with other plants, and look great mixed in with other lower growing plants. Being tall it is often placed at the back of the border but since the airy plants don't over shadow the others it can be used throughout.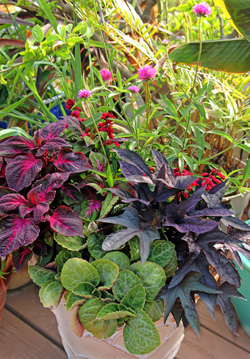 'Fireworks' combines well with lambs ears, anise hyssop, mealycup sage (Salvia farinacea, whose spiky blue blooms provide a different flower texture), and the lime green leaves of ornamental sweet potato or certain varieties of coleus. The flowers dancing in the wind brings movement to the garden.
This vigorous annual stands up to high heat and humidity, blooming throughout the growing season until a hard freeze, and resists weather damage. Plant it in full sun and fertile, well-drained soil. Although it is drought tolerant once established, provide moderate moisture for better flower production. It is available as seed and as plants. It is easily grown from seed but is best started indoors 4-6 weeks before the average last frost. Place in the garden after the last frost. Even though 'Fireworks' produces more flowers than other gomphrenas, it never needs deadheading. It may self-seed however, although the seedlings are easy to pull out.
– Susan Mahr, University of Wisconsin – Madison