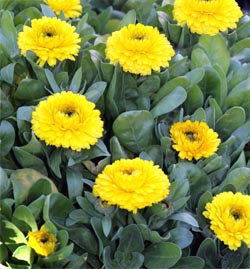 Calendula officinalis is an annual or shot-lived perennial herb in the daisy family (Asteraceae) originating from southern Europe and the Eastern Mediterranean area. It has long been cultivated and is a widespread garden escapee in cool, temperate climates. It has been used for many centuries for a range of culinary and medicinal purposes. This species has the common name pot marigold or English or Scotch marigold, which should not be confused with marigolds, which are several species of Tagetes. The related C. arvensis, field marigold, from southern Europe is a branched annual species with 1" yellow or orange daisies.
The bushy plants have simple, alternate leaves on angular, branched stems spreading up to 2 feet long. The stems are covered in fine hairs. The edges of the spatulate or oblanceolate leaves are wavy but not toothed, and the leaves are sticky and aromatic – although this trait is often greatly reduced in modern cultivars.
The daisy-like flowers are typically bright orange or yellow but some white and bi-colored cultivars have been developed. The monoecious flowers (individual flowers are either male or female, but both sexes can be found on the same plant) are 2-3" across with both ray florets and disc florets. The plants bloom over a long period, almost continuously until the first heavy frost and the flowers are good for cut flowers.



After pollination by bees, the styles develop into incurved, nail-like achenes. As the petals drop off, a circular corona of grey or light brown seeds remains.



Calendula is easy to grow in any well-drained soil in full sun. Seeds can be sown directly in the garden just before last frost date, but for earlier bloom start seeds indoors about 6-8 weeks before last frost. Successive sowings will provide fresh, blooming plants throughout the season. Use fresh seed as viability declines in storage. Sow the seeds ¼-½" deep; light will inhibit germination. Seeds should germinate in 5-15 days. Once the plants are several inches tall, pinch the vegetative buds to promote bushier plants. Plants flower best when they are not heavily fertilized and they prefer moderate watering. Deadhead regularly to encourage blooming. If the flowers are not removed, the plants may self-sow. This plant has few pests, but may have problems with aphids, powdery mildew and occasionally cucumber mosaic virus. Plants may languish in prolonged hot summer weather but typically recover when cooler weather returns.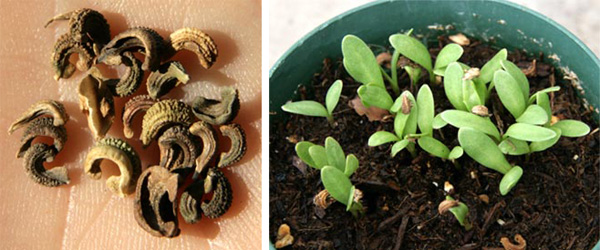 Calendula is more commonly grown in the flower garden than as a culinary herb. It is suitable for borders, beds, cut flower gardens and containers. They look particularly good in masses and in the cottage garden. Calendula allegedly deters insects, so is often suggested to use as a companion plant in vegetable gardens, but this has not been scientifically proven.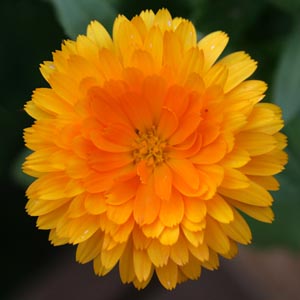 The leaves and petals of this plant are edible. The leaves are typically bitter and often are added to leafy salads. The fresh petals are used as a garnish, seasoning, or a traditional yellow cheese colorant. Calendula was also used historically as medicine and a dye for fabrics, foods, and cosmetics.
Harvest the whole flower tops or just the petals when the flowers are fully expanded. Pick after any dew has dried and dry in a well-ventilated place out of direct sunlight. Store in well-sealed containers.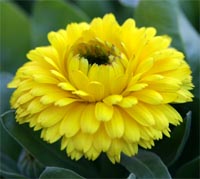 There are numerous cultivars of calendula.
'Bon Bon' series is a mix of apricot, yellow and orange 2½-3" flowers. The uniformly compact plants grow to 12" wide and high.
'Citrus Cocktail' offers orange and yellow blooms on dwarf, compact plants.
'Dwarf Gem' has double apricot, yellow and orange flowers.
'Flashback' series has a wide variety of pastel and bright colors, with the undersides of the petals colored muted burgundy. A high percentage of double and semi-double flowers are produced on long, strong stems making it ideal as a cut flower.
'Golden Princess' has flowers with black centers.
'Greenheart Orange' has orange petals and a green center.
'Indian Prince' produces 2-3" flowers on 14-24" plants. The dark yellow-orange petals are edged in dark red to mahogany, with red on the reverse, and have a dark center.
'Kablouna' series has flowers with short ray florets and prominently quilled center. The blooms are white, yellow, orange and apricot and the plants grow 20" tall.
'Neon' has double flowers in bright colors.
'Orange Porcupine' has double, 2½ to 3½" quilled flowers in bright orange on 24" plants.
'Orange Salad' has orange flowers that can be used as a substitute for saffron.
'Pacific Beauty' is a tall stemmed series (to 18") with flowers in yellow, orange and apricot.
'Pink Surprise' produces light orange to apricot flowers delicately tinged in pink with deep apricot centers. The plants grow 20-24" tall.
'Radio' is an old variety, introduced in 1931, that is less sticky and aromatic than the wild type. It produces semi-double orange flowers with quilled petals (resembling cactus-type dahlia flowers) on thick stems. The ray flowers have conspicuously pinked edges.
'Sherbet Fizz' has buff-colored blooms, with the tightly packed petals tipped with red and dark red undersides.
'Touch of Red' has reddish overtones to the yellow, orange and cream flowers and the back of each petal is colored deep mahogany-red. The 14" tall plants produce 2" flowers that become slightly smaller over the bloom period, but are still excellent for cut flowers.
– Susan Mahr, University of Wisconsin – Madison