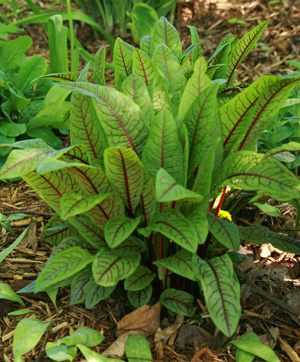 Rumex sanguineus is one of about 200 species in the genus that includes annuals, biennials, and perennials, including some weeds. This attractive variety with a number of common names including bloody dock, bloody sorrel, bloodwort, red-veined dock and wood dock is grown primarily as an ornamental foliage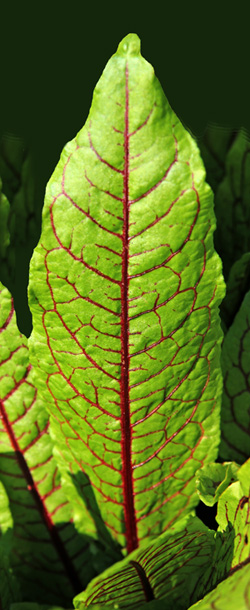 plant. Although considered edible, it does contain oxalic acid so should not be ingested in large quantities; when eaten all parts may cause mild stomach upset and contact with the foliage may irritate the skin of sensitive individuals. Native from Europe into southwest Asia and northern Africa, this plant in the buckwheat family (Polygonaceae) is hardy in zones 4-8 (especially if protected by snow cover) but can also be grown as annual.
This herbaceous perennial produces a tightly packed rosette of leaves about a foot tall from a deep taproot. The medium green lanceolate leaves are distinctively marked with an intricate network of colorful veins of red to purple. In mild climates it remains evergreen but the leaves die back to the ground in harsh winters.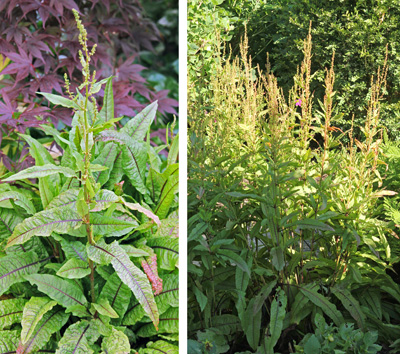 In late spring to early summer erect stems 2-3 feet tall grow from the rosette, covered with smaller leaves and a non-descript inflorescence of tiny, star-shaped flowers in a panicle. These inconsequential wind-pollinated flowers turn from pale green to a reddish brown and are followed by dark brown fruits. As the inflorescence and flowers are not particularly attractive they are often removed from the plant to improve its appearance, promote bushier basal growth and to prevent self seeding. If allowed to go to seed, cut back hard afterwards to rejuvenate the plant.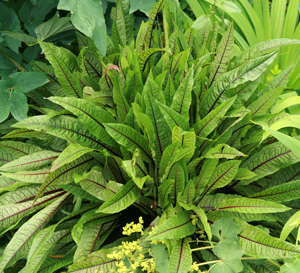 Use bloody dock for its attractive foliage in borders or ornamental herb or vegetable gardens. Use it as an edging plant or an accent to contrast with light green or purple-leaved plants. Add it to a mixed container or a container water garden. It is a great complement to red or blue flowers and works well on the edge of woodland gardens or in moist meadows. It does well in rain gardens that are intermittently inundated.
Bloody dock is best grown in full sun to partial shade in average to moist soil. It can even be grown as a marginal plant around ponds, in a bog, or in a water garden. A low maintenance plant, it requires little care other than cutting back the flower spikes (if desired) and removing the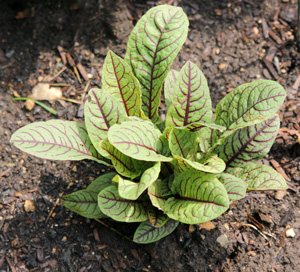 old foliage in spring before new leaves emerge. Fertilize annually in spring. Propagate from seed or division in early spring. Sow seeds directly in the ground in spring. Common pest issues include slugs, rust and powdery mildew.
If used as a vegetable, only the tender young leaves are edible raw, with a flavor like spinach or chard with a hint of lemony tartness. The young leaves can also be cooked like spinach or chard. Older leaves become tougher and bitter and are essentially inedible by the time they are the mature size. Other species of Rumex are better culinary plants, however.
– Susan Mahr, University of Wisconsin – Madison