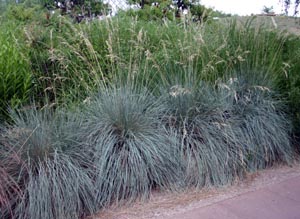 Blue oat grass, Helictotrichon sempervirens, is a cool season, clump-forming grass with steel-blue foliage. This is an award-winning plant for any garden. It won the Award of Garden Merit from the Royal Horticultural Society in 1993 and was selected for Great Plant Picks in 2004. The neat, bristly mounds make an attractive ornamental plant. It is similar in appearance to blue fescue (Festuca ovina glauca cultivars) but taller and with sturdier blades.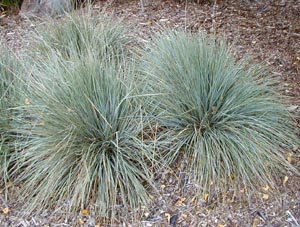 Native to central and southwestern Europe, this perennial grass is hardy in zones 3 or 4-8.The long, wiry leaves on arching stems are about ½ inch wide and taper to a fine point. Under optimal conditions it grows about two feet tall and three feet wide. Graceful flower plumes grow vertically from the center of the plant. Pale blue flowers bloom on beige, one-sided panicles in midsummer. It often does not consistently produce the attractive, arching four foot flower stems in more northern areas where there is a shorter, cooler growing season. The leaves turn light brown in autumn and persist through the winter.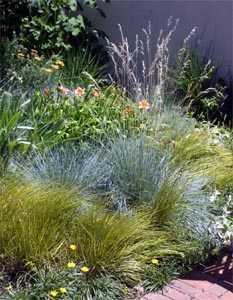 This small ornamental grass has many landscape uses, with a color and texture few plants have. It makes a nice addition to the perennial border, particularly as a contrast to green-leaved plants. Use it as a single accent plant in the smaller garden or rock garden, grow it in masses for a fine-textured drift, or try it in a container. Blue oat grass makes a nice row along a walkway, or can be added to the front of a shrub border. It combines well with Russian sage (Perovskia), Salvia x sylvestris 'Mainacht' ('May Night'), blanketflower (Gaillardia), Sedum 'Autumn Joy' and other, more upright ornamental grasses. Use it to echo the blue foliage or flowers of blue spruce, blue junipers or blue-flowering perennials such as Campanula, lavender (Lavendula), or blue mist spirea (Caryopteris). For a more dramatic effect, try combining it with plants with deep maroon leaves.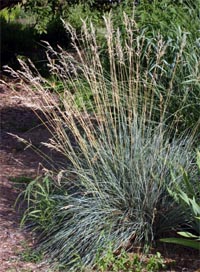 Plant blue oat grass in full sun. Well-drained soil is essential for winter survival. Although it prefers a moist soil, it will tolerate sandy as well as heavy clay soils – as long as it does not remain too wet in winter. Evergreen in milder climates, the leaves die back in Wisconsin winters; use a rake to remove the old foliage or cut back close to the ground in late winter. This plant has no significant insect pests or diseases other than crown rot that occurs in poorly drained soils.
There are a few cultivars:
'Sapphire' has finer blades that are slightly smaller and bluer than the type.
'Saphirspudel' ('Sapphire Fountain') is a finely textured, semi-evergreen selection from Germany.
Propagate blue oat grass by division in the spring or grow from seed. Sow fresh seed in late summer, keep over the winter in a cold frame, and they should germinate in spring.
– Susan Mahr, University of Wisconsin – Madison